Mica Media Systems – Bagari SE
Bring in a touch of nature and take your drab concrete flooring from ordinary to extraordinary! Mica, a natural, reflective mineral flake derived from a group of sheet silicate minerals, provides flooring with unique texture, pattern and reflectivity. Available in a multitude of colors and opacities, mica media flooring systems are as aesthetically stunning as they are durable. Examples include our Earth Effects, Stone Silicate, Diamond Effects, Bagari SE and Vintage Mica coating systems. For these systems, a standard or moisture-mitigating epoxy primer coat is applied followed by the color coat. Mica flakes are then broadcast in varying spreads and finished with one or more clear coats. Nature always wears the colors of the spirit (Ralph Waldo Emerson, 1836).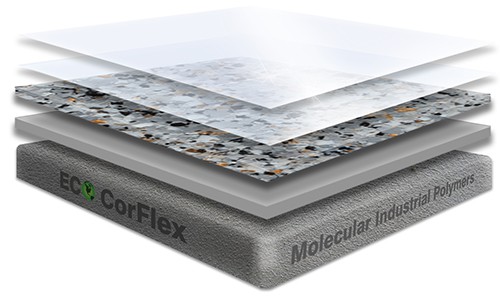 Click on a red button to view other mica systems:
Bagari SE Color Samples* – Click on the color samples below for an expanded view.
*Due to screen color calibration settings, images and color tones may vary from actual samples.
It's always nice to bring a touch of nature into your home. So how can you blend the natural world with your interior space? One increasingly popular way is to turn your home "outside-in" with mica-infused coatings. Basements and garages are great places to install this type of flooring. But because it's so durable, you can install it virtually anywhere…inside and out.
Using mica chips in a coating system takes your flooring "next-level". Mica is a glimmering silicate mineral found as minute flakes in granite (and other rocks) and is available in many colors and opacities. When incorporated in a floor in either a partial spread or full-chip spread, it provides a unique texture, pattern and reflective quality that only mica can deliver. It simply outshines (literally) and overshadows standard chipped flooring. If you're looking high-end, mica media systems are a great option.
Mica-infused coatings provide a host of additional benefits. They strongly resist staining and abrasions and are extremely UV stable (so they can be installed outdoors as well). Because these systems incorporate one or more clear topcoats, this flooring is very easy to maintain. Just hose it down and squeegee clean.
Mica-Infused Flooring Options

Our company offers a variety of sophisticated mica media coating systems. Our partial spread coating systems, Liquid Minerals, Stone Silicate and Diamond Effects, and our full-chip Earth Effects system have been around for years. But our newest entries are the striking Bagari SE and Vintage Mica systems. These coating systems (along with the Earth Effects system) use our branded technology that prevents mica from floating. It makes for a trouble-free broadcast and drastically cuts installation time.
Take your basement, garage or any space from ordinary to extraordinary with a partial or full-chip mica-infused coating system. Our installers are highly trained in the art and science of application, ensuring your finished mica-infused floor is natural, beautiful, functional and durable…for years to come.