Metallic Systems – Liquid Art
Designer metallic epoxy coatings are now one of the hottest trends in decorative concrete flooring. They provide a flowing, 3-D marbled look with iridescent accents. No two floors look alike. And because they're both aesthetically stunning and crazy durable, they can be installed in residential, retail and commercial interior spaces. Our metallic flooring, called Liquid Art, consists of a metallic primer and color coat. Before the metallic epoxy coat cures, applicators use a variety of tools and techniques to create dramatic decorative effects. A clear coat provides the finishing touch. No chips and no anti-skid are broadcast into Liquid Art coating systems, owing to it's flowing, glass-like appearance.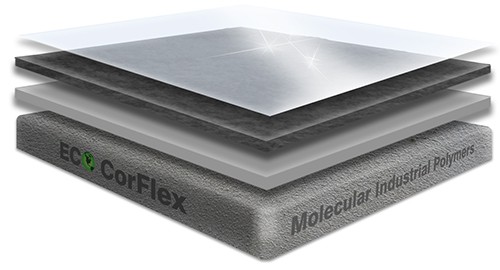 Liquid Art Color Samples* – Click on the color samples below for an expanded view.
*Due to screen color calibration settings, images and color tones may vary from actual samples.
Form Ever Follows Function
It was the Roman architect, engineer and author, Marcus Vitruvius Pollio, who first asserted in his book De architectura that structures must exhibit 3 qualities: "firmitas", "utilitas" and "venustas". That is, structures must be solid, useful, and beautiful. Based on this premise, he coined the phrase "form ever follows function". Our metallic Liquid Art coatings systems meet all the criteria! For sophisticated homeowners, restaurateurs, and business owners with a flair for design…this is the product for you!
Introducing Liquid Art Coating Systems
Our unique Liquid Art coating systems are hand-crafted, sophisticated interior flooring with a 3-dimensional high gloss finish, available in a variety of exclusive colors and effects. Floors finished with this coating system are striking and inimitable…and possess a flowing, "glass-like" quality. These complex systems are for interior applications only, including basements, kitchens, recreation & exercise rooms, showrooms, salons, restaurants, and other commercial spaces where visual impact is desired.
The metallic components are tiny, glittering pigments that are mixed into the 2-part epoxy before the mixture is poured onto the floor. When the pigments become agitated with a roller or squeegee, they twist and turn and reflect light at differing angles. Even unusual color variations can be created by drizzling, splotching or blending one or more metallic pigment colors over the top of the base color. When the epoxy hardens, the metallic pigments lock in place and provide the lustrous metallic flooring so popular today. The end result is that no two metallic epoxy floors ever look the same. This is not cookie-cutter flooring!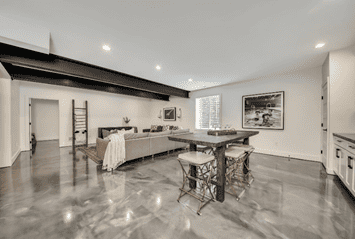 Why choose our Liquid Art Coating System?
Our Liquid Art coating system uses industrial-grade, low-VOC and low-odor products. This is important given that these safe systems are designed for indoor applications. High odor systems have no place indoors. Once applied, Liquid Art coating systems strongly resist high-traffic, staining and abrasion. Take comfort in the fact that our installers are highly trained, ensuring your finished product is as aesthetically stunning as it is functional. Solid, useful and beautiful.